Covid-19 Vaccinations in Bicester
Introduction
Information updated: 14 January 2021
The GP practices in Bicester are working together to provide the COVID-19 Vaccination under the directions given to us by NHS England.
The COVID-19 vaccination will reduce the chance of you suffering from COVID-19 disease. Like all medicines, no vaccine is completely effective and it takes a few weeks for your body to build up protection from the vaccine. Some people may still get COVID-19 despite having a vaccination, but this should lessen the severity of any infection. If you are currently pregnant, planning pregnancy in the next 2 months or breastfeeding please read the detailed information at www.nhs.uk/covidvaccination
The vaccine cannot give you COVID-19 infection, and two doses will reduce your chance of becoming seriously ill. Like all medicines, vaccines can cause side effects. Most of these are mild and short-term, and not everyone gets them.
Vaccinations will be given from a single location in Bicester, that is suitable to vaccinate a large number of patients, safely, but in a timely manner. This will also help us to reduce the impact on our surgeries, but as you will appreciate in undertaking the vaccination programme we may need to prioritise our services at certain times to urgent only cases.
The location is Bicester Heritage (Airfield - former RAF Bicester) (cars via Skimmingdish Lane ONLY - further details below)
Currently, patients will be vaccinated with either the "Pfizer" COVID-19 Vaccine or the Astra Zenaca vaccine. You cannot choose which vaccine you receive as supply is determined centrally and may change with each vaccination session.
Patients will be contacted by the practice to arrange their appointments. Due to the rapid changing nature of the vaccination roll-out, this may be at short notice.
Please do not call the practice to request a vaccination - the practice will contact you to make the arrangements, following the priority issued by the Government.
To be vaccinated patients will require 2 vaccinations 3 months apart. So if your first appointment is on a Thursday at 10am, you next appointment will be 3 months later, again on the Thursday at 10am. You must be available for both appointments.
Employers are expected to show appropriate flexibility to enable their workers to attend their vaccination appointments.
You are asked NOT to contact the Practice to enquire about appointments or information on the vaccine being used, as this will prevent patients with medical issues being able to contact us.
Further information and links are below.
As you will appreciate, the urgent need to deliver COVID-19 Vaccinations means that our normal services may need to be altered or reduced at times. We continue to be grateful for your patience and understanding with this. Our staff have worked tirelessly in 2020 during the current pandemic to ensure that we have continued to provide our patients with the best care we can provide. They are very grateful for the support and kind messages of support shown by everyone.
Patient Prioritisation
The Vaccine will be made available to patients in a prioritised order, which reflects the level of risk of serious complications should they get COVID-19
As covered in the national press, the Pfizer vaccine provides significant logistical and storage issues. This means that currently patients need to attend the Vaccination Centre to receive their vaccination - arrangements for Care Home patients and Housebound patients are being considered by NHS England.
The current published Government's priority for the vaccination is below. Those highlighted are the groups we are currently vaccinating
Residents in a care home for older adults and their carers
All those 80 years of age and over and frontline health and social care workers
All those 75 years of age and over
All those 70 years of age and over and clinically extremely vulnerable individuals
All those 65 years of age and over. All individuals aged 16 years to 64 years with underlying health conditions which put them at higher risk of serious disease and mortality
All those 60 years of age and over
All those 55 years of age and over
All those 50 years of age and over
Where we are unable to fill the available appointments, those in the next group may be contacted at short notice to have their vaccination.
Attending your vaccination appointment and what to expect
If you feel unwell on the day, have any of the COVID symptoms (high temperature, a new continuous cough or a loss or change to your sense of smell or taste) or you have been a close contact with a COVID positive case in the 14 days prior to vaccination, then please call the Vaccination Cancellation line on 01869 227771 to advise and cancel the appointment. This number is ONLY to cancel a COVID-19 vaccination apppointment - staff answering will not be able to assist with any other matters. DO NOT ATTEND THE VACCINATION CENTRE as you will be putting other vulnerable patients and staff at risk.
On arrival at Bicester Heritage Public Car Park you will be directed to the building being use as the Vaccination Centre.
Please only arrive at Centre 5 /10 mins before appointment.
When you arrive at the venue, please enter via Skimmingdish Lane – there will be marshals on site to help direct you and manage the flow of traffic. Please follow their instructions. Please see below for further instructions
Only the named patient will be able to enter the building unless you need a carer to assist you. Drivers / family members will need to remain in the car.
You will need to wear a mask inside the venue, unless you are medically exempt. This is to help protect you, the other vulnerable patients, and staff on site.
On arrival you will be checked in and be pre-screened with the COVID questions and clinically assessed to ensure that you are fit and well enough to be vaccinated.
Please wear a T-shirt or loose clothing with easy access to vaccinate our upper arm. Please keep bags/coats to a minimum.
You will be asked to stay for a 15 minute observation after your vaccination. This is simply a precautionary / safety measure.
It is possible that you may have some mild side effects from the vaccine and more information about side effects will be shared with you during your appointment.
How to find us
Our Vaccination Centre is at Bicester Heritage.
Arriving by Car
Access is via the South Gate on Skimmingdish Lane.
See here for Google Maps Directions
You need to approach the entrance from the Buckingham Road Roundabout - so you TURN LEFT into the site. When leaving you will need to TURN LEFT onto Skimmingdish Lane.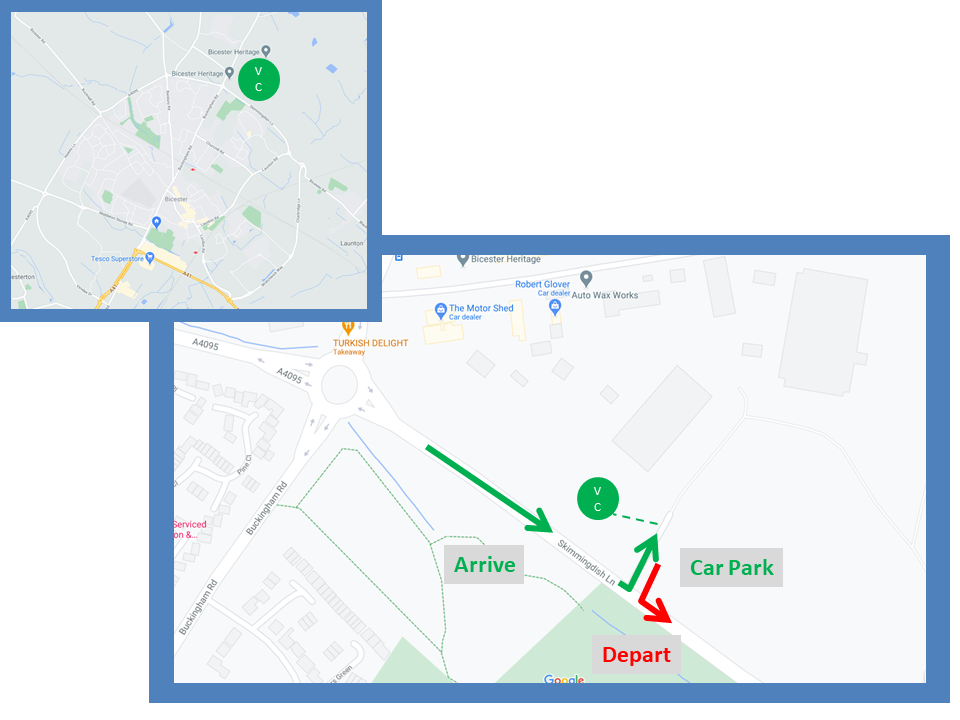 There is a patient dropping off point just inside the entrance. (DO NOT drop off patients on the main road)
It is then a short walk (approx 150m) from the Car Park to the Vaccination Centre (VC) Building.
Arriving by Foot/Cycle
Cyclists and pedestrians must enter via the Skimmingdish Lane entrance only. Oxfordshire County Council have kindly provided a temporary pedestrian crossing on Skimmingdish Lane to assist access to the vaccination centre.
Vaccine Information
Read about the approved Pfizer/BioNTech Vaccine for COVID-19
Further Information
As information is changing constantly, for further information please visit the following websites