How to get your 1st or 2nd COVID-19 vaccine
The COVID-19 vaccines currently available are given in 2 doses. You usually have the 2nd dose 8 to 12 weeks after the 1st dose.
If you're aged 18 or over (or will turn 18 within 3 months) you can:
If you cannot book appointments online, you can call 119 free of charge. You can speak to a translator if you need to.
If you have difficulties communicating or hearing, or are a British Sign Language (BSL) user, you can use textphone 18001 119 or the NHS 119 BSL interpreter service.

If you – or someone you know – is expecting vaccination and does not appear to have been contacted or does not yet have an appointment booked for a Covid-19 vaccination, then please get in touch now by calling the dedicated Covid-19 vaccination telephone number: 01869 943108


Last updated: 08 Oct 2021 17:38hrs
Covid-19 Vaccinations in Bicester
Last updated: 08 Oct 2021 17:41hrs
THIRD DOSE BOOSTER VACCINATIONS ARE NOW UNDERWAY AT THE BICESTER HERITAGE SITE - BY APPOINTMENT ONLY. WE WILL CONTACT YOU WHEN A VACCINATION IS AVAILABLE FOR YOU AND IF YOU ATTEND FOR ONE AT BICESTER HERITAGE VACCINATION CENTRE YOU'LL USUALLY BE OFFERED A SEASONAL FLU JAB AT THE SAME TIME.
We are texting and calling patients about appointments. PLEASE PICK UP ALL YOUR CALLS - INCLUDING ONES THAT MAY SAY THE NUMBER IS 'PRIVATE' OR 'WITHHELD' AS THIS MAY BE FROM YOUR SURGERY. BEWARE OF POSSIBLE SCAMS - REMEMBER THAT THE NHS WILL NEVER ASK YOU FOR FINANCIAL DETAILS, OR PERSONAL DOCUMENTS LIKE YOUR PASSPORT OR TO PAY FOR A COVID-19 VACCINATION. WE ARE NOT PERMITTED TO LEAVE MESSAGES ON AN ANSWERING MACHINE.
We send a text or phone you directly to offer a vaccination and if you have a mobile phone number registered with us then we will try to contact your mobile number first. If we cannot make contact on your mobile number then we'll try your landline next. If you need to let us know your contact number please update your Patient Record..
Some patients may have received a letter or text direct from the NHS giving them information on how to book a vaccination appointment at one of the vaccination centres other than Bicester Heritage. If you wish you can book a vaccination at one of these other centres by following the instructions on the NHS letter or NHS booking website. It is not possible to book your Covid-19 booster jab at Bicester Heritage via the National Booking Service - you can only book in for Bicester Heritage via the text sent to you from the Bicester GP practice at which you are registered as a patient.
There is information on using the National Booking Service to make a vaccination booking or manage an existing one.
The days and times of Bicester Vaccination Centre's opening will continue to be determined by the delivery dates of vaccine and when we are able to arrange vaccination sessions. You may see that the Centre is not always active when you are passing and at these times our staff will be back at the surgeries and engaged in working there.
Attending your vaccination appointment and what to expect
If you feel unwell on the day, have any of the COVID symptoms (high temperature, a new continuous cough or a loss or change to your sense of smell or taste) or you have been a close contact with a COVID positive case in the 14 days prior to vaccination, then please call the Vaccination Cancellation line on 01869 227771 to advise and cancel the appointment. This number is ONLY to cancel a COVID-19 vaccination apppointment - staff answering will not be able to assist with any other matters. DO NOT ATTEND THE VACCINATION CENTRE as you will be putting other vulnerable patients and staff at risk.
On arrival at Bicester Heritage Public Car Park you will be directed to the building being used as the Vaccination Centre.
Please only arrive at Centre 5 /10 mins before appointment.
When you arrive at the venue, please enter via Skimmingdish Lane – there will be marshals on site to help direct you and manage the flow of traffic. Please follow their instructions. Please see below for further instructions
Only the named patient will be able to enter the building unless you need a carer to assist you. Drivers / family members will need to remain in the car.
You will need to wear a mask inside the venue, unless you are medically exempt. This is to help protect you, the other vulnerable patients, and staff on site.
On arrival you will be checked in and be pre-screened with the COVID and Flu questions and clinically assessed to ensure that you are fit and well enough to be vaccinated.
Please wear a T-shirt or loose clothing with easy access to vaccinate our upper arm. Please keep bags/coats to a minimum.
You will be asked to stay for a 15 minute observation after your vaccination. This is simply a precautionary / safety measure.
It is possible that you may have some mild side effects from the vaccine and more information about side effects will be shared with you during your appointment.
How to find us
Our Vaccination Centre is at Bicester Heritage. Please note that the autumn 2021 booster jabs are being carried out at a different unit within Bicester Heritage. Arrivals and parking are exactly the same as before. The new unit is a similar distance from the gate and our volunteers will be pleased to help direct you. Our pictures show the way to the new unit. You must still wear a mask or face covering when attending the Vaccination Centre. This protects you, other visitors and our staff. Thank you.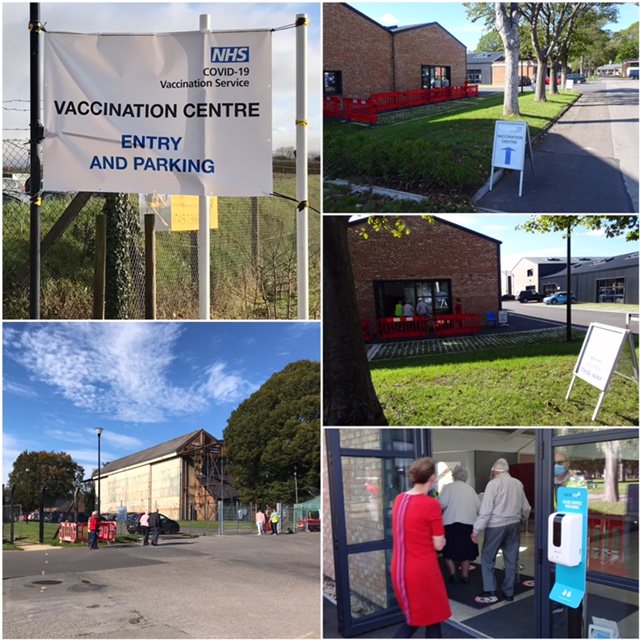 Arriving by Car
Access is via the South Gate on Skimmingdish Lane.
See here for Google Maps Directions
You need to approach the entrance from the Buckingham Road Roundabout - so you TURN LEFT into the site. When leaving you will need to TURN LEFT onto Skimmingdish Lane.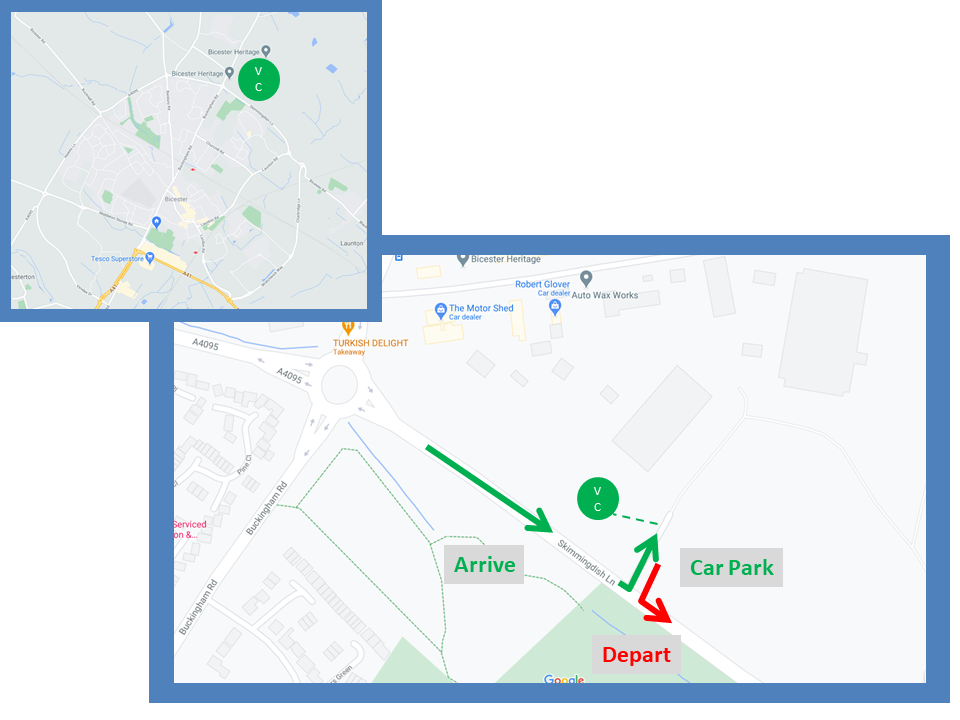 There is a patient dropping off point just inside the entrance. (DO NOT drop off patients on the main road)
It is then a short walk (approx 150m) from the Car Park to the Vaccination Centre (VC) Building.
Arriving by Foot/Cycle
Cyclists and pedestrians must enter via the Skimmingdish Lane entrance only. Oxfordshire County Council have kindly provided a temporary pedestrian crossing on Skimmingdish Lane to assist access to the vaccination centre.
Vaccine Information
Read about the approved Pfizer/BioNTech Vaccine for COVID-19
Further Information
As information is changing constantly, for further information please visit the following websites