Register as New Patient
You can now register online by following the link below:
Register as a new patient at Bicester Health Centre
Please complete the registration forms very carefully, ensuring you complete all details. If we do not have all of the information required in order to complete your registration, we will need to contact you to obtain further details. This will delay your registration, which we are very keen to avoid if possible.
If you wish to register using paper forms, you can collect a registration pack from reception. Please put completed registration forms in the practice letter box, situated to the left of the main entrance. Registration from a paper form is usually completed 8-10 days after receipt of fully completed forms.
Medical treatment is available from the date of registration. Please contact reception for further information.
Our Practice Area
If you live within our practice area you are welcome to register with us and our Patient Coordinators will be happy to guide you through the procedure. Eligibility can be quickly confirmed from your address so please CLICK HERE to check if your postcode is within our practice area.
New patients registering with the practice must be permanently resident within the practice area. If a patient registered at the practice moves to the outer boundary area (see the small map opposite for definition of the outer boundary area), they have the choice of remaining registered at the practice, or of registering with an alternative practice.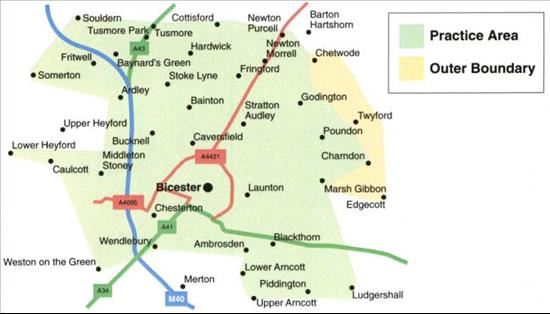 Outer Area
Temporary Patient Registrations
If you are ill while away from home or if you are not registered with a doctor but need to see one you can receive emergency treatment from the local GP practice for 14 days. After 14 days you will need to register as a temporary or permanent patient.
You can be registered as a temporary patient for up to three months. This will allow you to be on the local practice list and still remain a patient of your permanent GP. After three months you will have to permanently register with that practice.
To register as a temporary patient simply contact the local practice you wish to use. Practices do not have to accept you as a temporary patient although they do have an obligation to offer emergency treatment. You cannot register as a temporary patient at a practice in the town or area where you are already registered.
Non-English Speakers
These fact sheets have been written to explain the role of UK health services, the National Health Service (NHS), to newly-arrived individuals seeking asylum. They cover issues such as the role of GPs, their function as gatekeepers to the health services, how to register and how to access emergency services.
Special care has been taken to ensure that information is given in clear language, and the content and style has been tested with user groups.
Open the leaflets in one of the following languages:
Disabled Patient Facilities
Disabled patient facilities are available at this practice.
The building is on a single level. There are two adapted access toilets. The practice has dedicated disabled parking spaces opposite the building.
Named Allocated GP
The practice is required under the terms of the NHS GP contract to allocate all patients a named accountable GP. New patients joining us will be advised of their accountable GP at the point of registration.
If you need to check the name of your named GP, look on the NHS App or you can call the practice.
If you wish to request a change of your named GP, please contact us.
Having a named GP does not prevent you from seeing any other doctor in the practice. Your named GP will not be available at all times and if your needs are urgent, you may need to discuss them with an alternative doctor.
Bicester Health Centre
Coker Close
Bicester
Oxfordshire
OX26 6AT
Day
Opening hours
Saturday 9 December

8am to 1pm

Sunday 10 December

Closed

Monday 11 December

8:30am to 6pm

Tuesday 12 December

8:30am to 6pm

Wednesday 13 December

8:30am to 6pm

6:15pm to 8pm

Thursday 14 December

8:30am to 6pm

Friday 15 December

8:30am to 6pm