15th Jul
Arrangements from 19 July 2021
After careful consideration we have taken the decision to keep our front doors closed after 19 July 2021. We are still operating a full clinical
service to look after your medical needs.
This decision is to ensure patients do not walk in with COVID-19 symptoms and potentially infect vulnerable patients who, despite being vaccinated, may not have made COVID-19 antibodies to protect them from the life threatening risk of COVID-19.
We are aware other surgeries have made different decisions which may be more appropriate for their different populations.
We want Bicester Health Centre to remain a safe space to deliver high quality care for our patients.
If you require same day access to a health professional, please send an eConsult before 12 noon. We will get back to you the same day. This receives the same priority as phoning the surgery. Where this is not possible or in a more urgent situation please telephone the surgery on 01869 249333
From 19 July 2021 we request all patients continue to wear a face covering in order to reduce the risk of spreading COVID-19 to other vulnerable patients.
21st May
The Abuse Must Stop
We've had so many lovely people who have given so much wonderful feedback to the team who are all working flat out at the moment to keep patient care AND COVID-19 vaccination services running. Against that sadly we have seen an increasing tide of abusive behaviour toward the very people who are beavering away to help everybody. Please take a moment to look at this video.
30th Apr
BICESTER'S MAYOR MEETS THE VACCINATION CENTRE STAFF AND VOLUNTEERS
The present Mayor of Bicester, Councillor Jason Slaymaster, has shown his support for the work of the Bicester Vaccination Centre, run jointly by all three of the town's GP practices.
The Mayor, who's nearing the end of a two year term of office, met with the staff and volunteers who're continuing to help in the ongoing operation to provide first and second dose jabs to more local patients.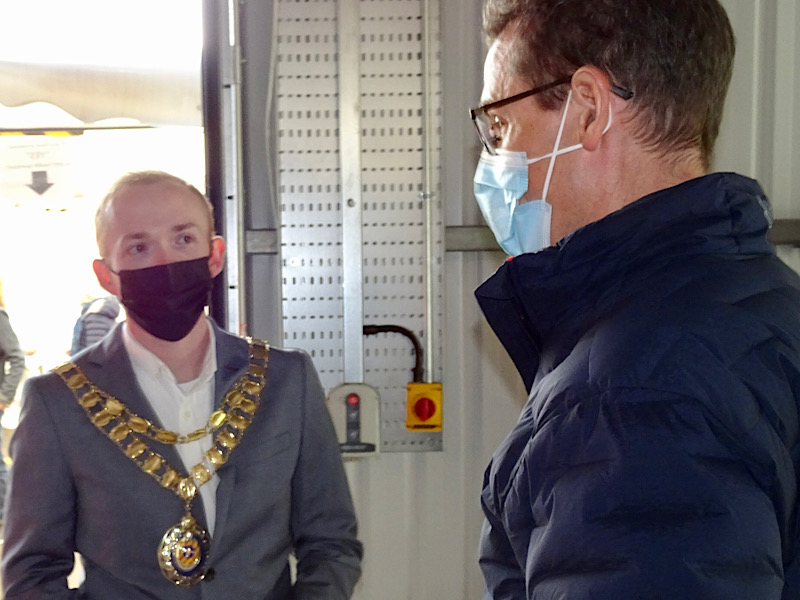 Among those he was able to meet were Dr Will O'Gorman, a GP partner at Montgomery-House Surgery and volunteer Jo, who's worked on every single day that the Vaccination Centre has been open since early January,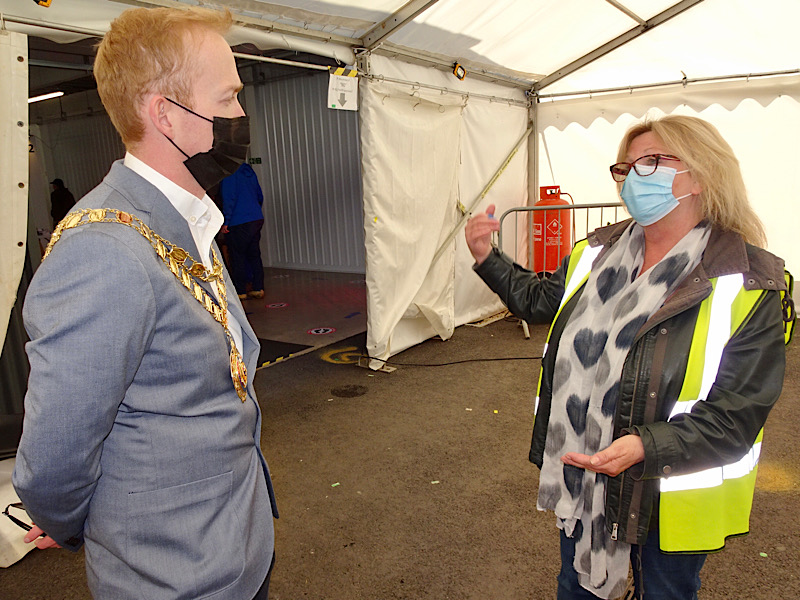 The Mayor also spoke with patients attending at the time of his visit, including Mr and Mrs Richardson from Bicester.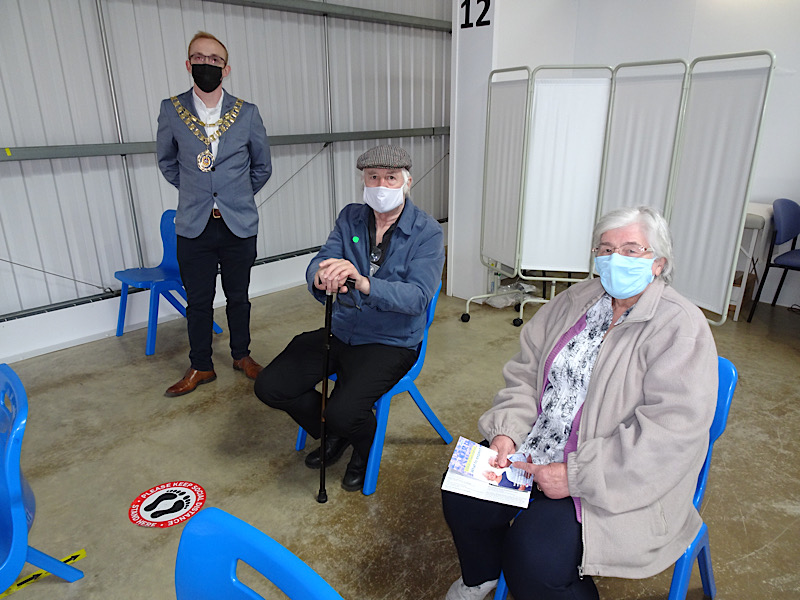 The couple told him they were delighted to have now become fully vaccinated against Covid-19 and praised the organisation and service at the Centre.
8th Apr
MHRA and JCVI Update Regarding AstraZeneca Vaccine
As you may have seen in the press there have been reports of an extremely rare adverse event of blood clots and low platelet count following the 1st dose of the AstraZeneca Covid-19 Vaccine. After consideration by the MHRA and JCVI, amended guidance has been issued.
The JVCI now advises that it is preferable for adults under 30 years of age without underlying health conditions to be offered an alternative vaccine as a precautionary measure, if available. Individuals may make an informed choice to receive the AstraZeneca COVID-19 vaccine to receive earlier protection.
Therefore as a precautionary measure these patients will be offered an alternative vaccine (i.e. the Pfizer BioNTech), which should be made available shortly. If an appointment is currently booked for the AstraZeneca COVID-19 Vaccine, then this will be cancelled.
All other patients, including those under 30 who have already had a AstraZeneca COVID-19 Vaccination, are unaffected. This means that this amended guidance is only likely to current effect a small number of patients until we reach the stage where those under 30 yrs as a general cohort are vaccinated later in the Spring/Summer.
11th Mar
Roll The Credits
The Bicester GP practices would like to send out a massive 'Thank You' to everyone who has helped in the creation and the continued running of the Bicester Vaccination Centre. It couldn't happen without the fantastic response from our local businesses, organisations and individuals. Please watch our video listing to learn who they are.
15th Feb
Targets met for completion of Phase 1 of National COVID-19 Vaccination Programme
Your Bicester GP practices are pleased to confirm that they have met the targets set for the completion of the first phase of the national Covid-19 vaccination programme.
Thanks to our practice teams, assisted by the many volunteers who've so willingly stepped forward to help, we've now been able to offer a vaccination to everyone who it's possible for us to vaccinate in Groups 1 to 4. These are our eldest and most at risk patients and a total of over 6,500 first dose vaccinations have been given since we first started to receive vaccine supply in early January. This includes vaccinations in local care homes and for housebound patients as well as to everyone booked for an appointment at the Bicester Vaccination Centre at Bicester Heritage.
The Bicester practices group would like to thank all patients for their understanding and support so far. Now, as we move into Phase 2, we're already starting to offer the jab to the next lower age group and we've already begun contacting and vaccinating patients who're aged in their mid to late 60s. Please keep a lookout on our facebook pages and websites for further information announcements.
Please do not contact your surgery to ask about your vaccination as we'll contact you by phone when there is one available for you.
Alchester Medical Group, Bicester Health Centre and Montgomery-House Surgery.
5th Feb
SERVICES DURING THE COVID-19 VACCINATIONS.
All the Bicester GP practices are highly appreciative of the support they're currently receiving from patients and have issued some information regarding their services during this time. The practices' statement to patients can be found below.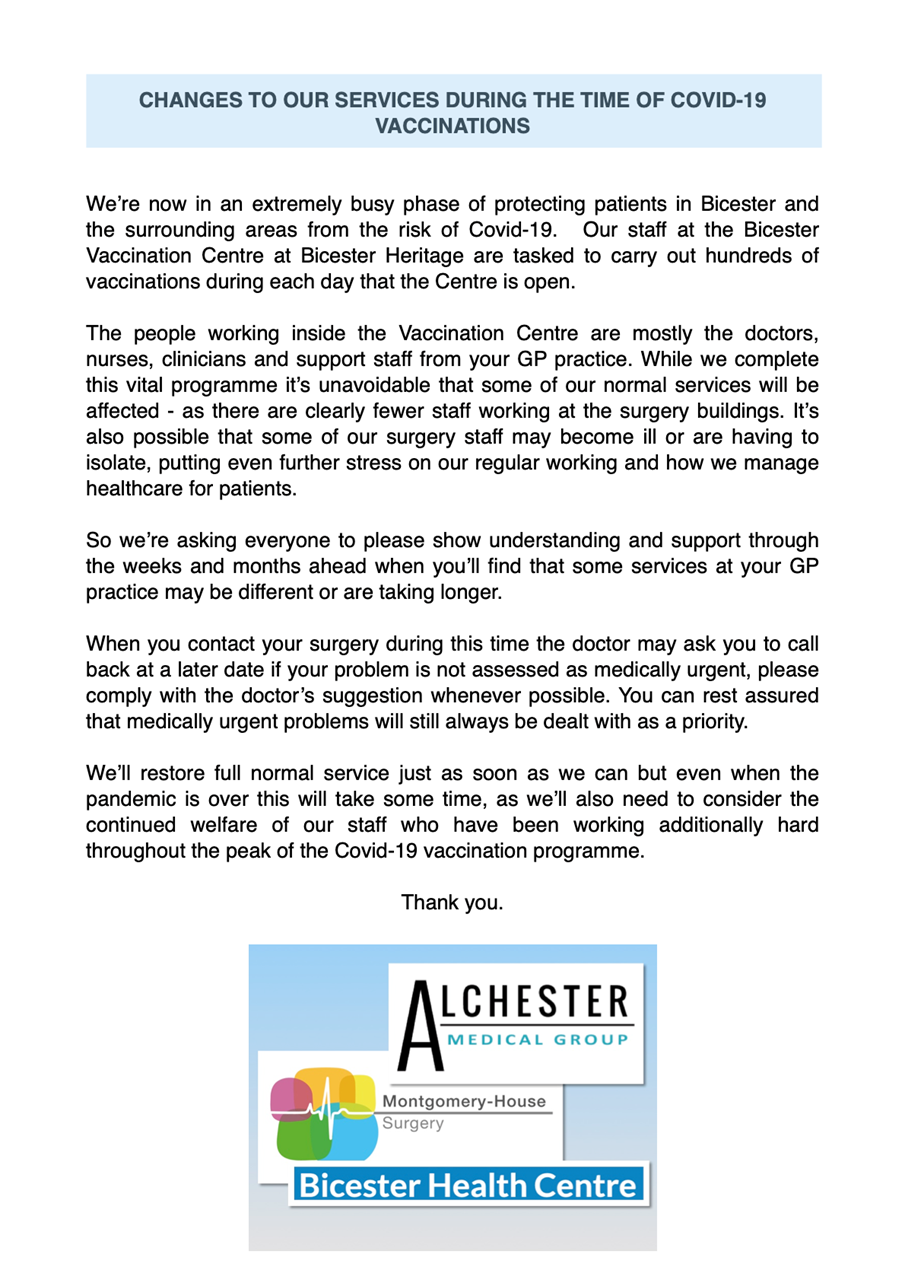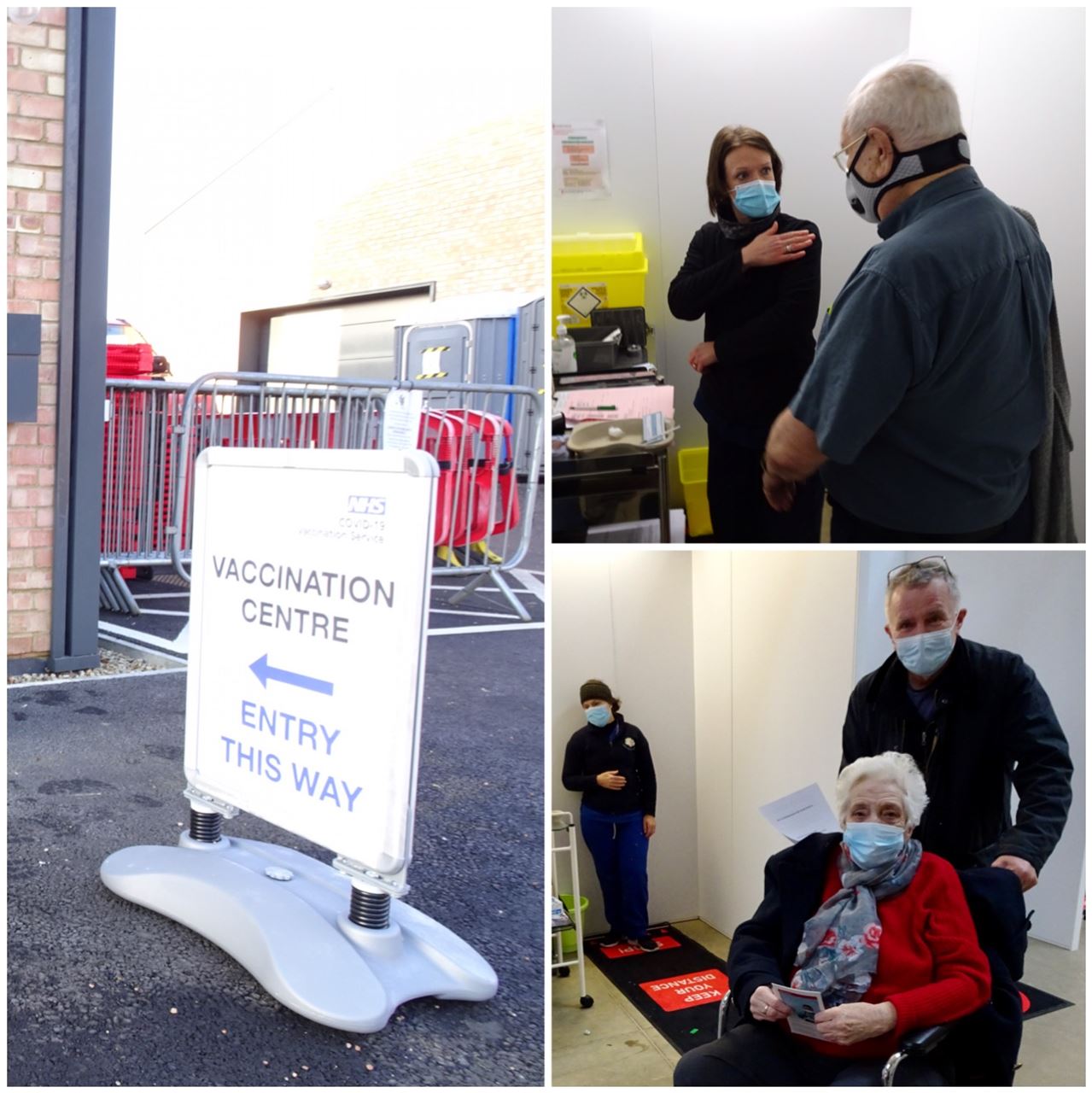 4th Feb
Bicester COVID-19 Vaccination Centre
On Wednesday 03 February the Bicester Vaccination Centre was open again and hundreds more people who're most at risk from Covid-19 were getting their first jabs. The Centre, run jointly by all three of Bicester's GP practices, is helping to push the number of people now vaccinated in the UK to over 10 million. The Vaccination Centre is operating again on Saturday 6 February - practices are currently contacting patients to book appointments.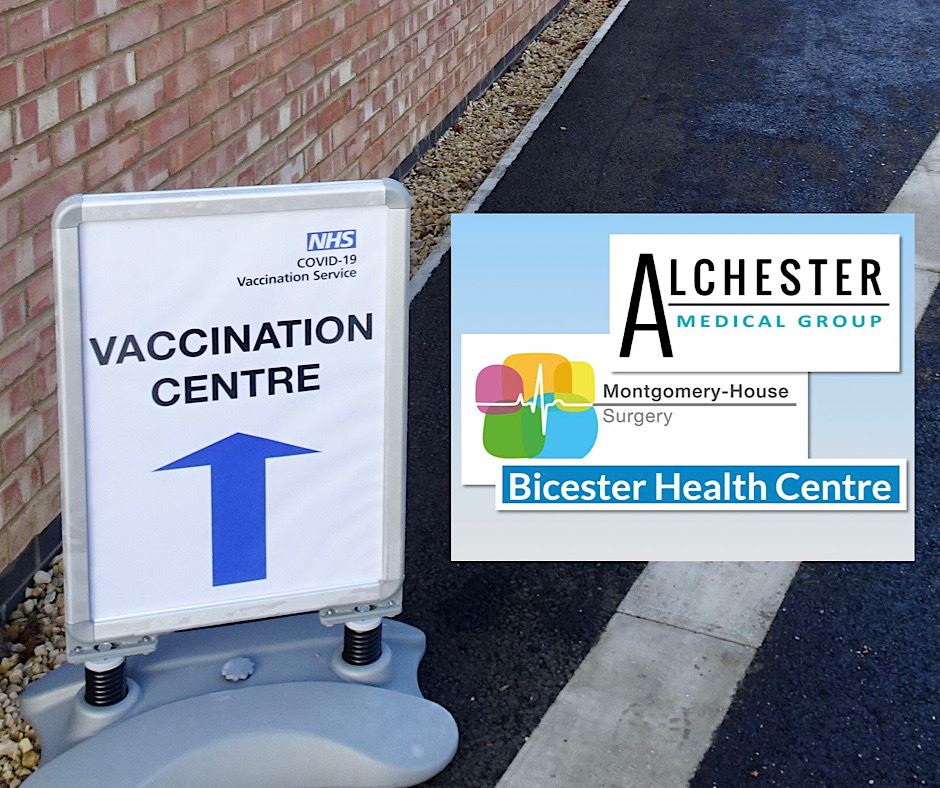 29th Jan
Bicester COVID-19 Vaccination Update for Patients
The Bicester group of GP practices will be moving swiftly to vaccinate their remaining patients in the most vulnerable groups from the week beginning Monday 1st February. We are working to ensure that all patients aged 70 and over, plus patients designated by the NHS as Covid-19 Extremely Vulnerable, receive their vaccination by the set target date of 15th February 2021.

We are expecting a supply of vaccine to enable vaccinations to take place at the Bicester Vaccination Centre at Bicester Heritage from next Wednesday (3rd February) and on more of the following days. The days of opening will continue to be determined by the exact delivery dates of vaccine and you may see that the Centre is not always active when you are passing. At those times, our staff continue to book appointments.

We are aiming to vaccinate nearly 4,000 additional patients starting from Wednesday and our practice staff will continue to contact patients directly by phone to book their appointment.

PLEASE DO NOT CALL YOUR PRACTICE unless we have expressly asked you to do so, as this will slow down the process of booking appointments for everyone who still requires one at this time.


Some patients may have received a letter direct from the NHS giving them information on how to book a vaccination appointment at one of the regional vaccination centres up to 45 minutes drive away. We understand these letters have caused confusion with some patients and would like to point out that these letters have not come from your GP surgery but from a central NHS source.

In summary, our patients have a choice of going to a regional vaccination centre for their vaccination or going to the Bicester Vaccination Centre run by your local Bicester GP practices.

Wherever you choose to attend for your first vaccination dose is also the place where you will need to go for your second vaccination.

During this busy time of vaccinations, when many of our staff are needed to work at the Vaccination Centre, we request that all our patients show understanding and support if services should be different or take a little longer when contacting your doctor or seeking other help at our surgeries.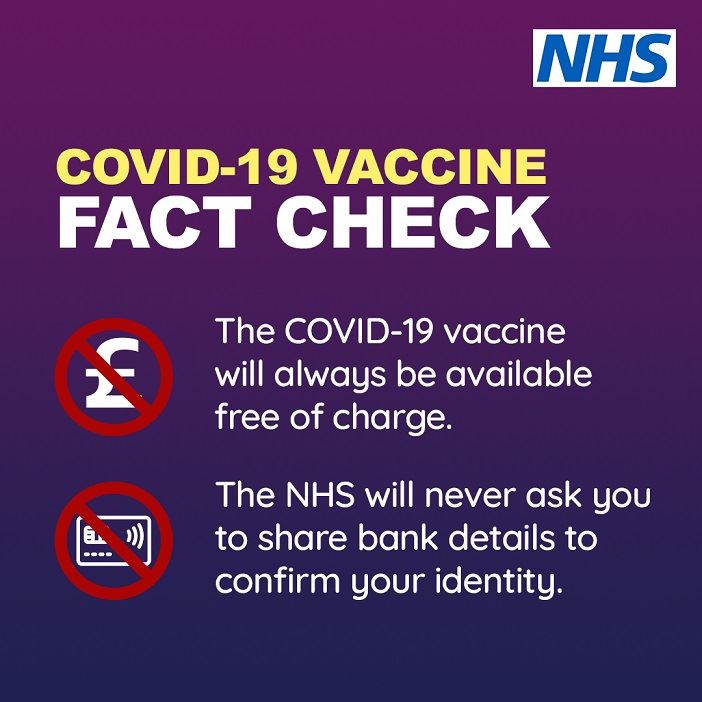 26th Jan
SCAM ALERT - COVID-19 VACCINATION FAKE INVITATIONS
We're seeing reports of scam emails that invite users to input their bank details into a fake NHS website to confirm their COVID-19 vaccine appointment. The NHS will never ask you to share bank details or pay for a vaccine. Report suspicious emails to: actionfraud.police.uk

SCAM ALERT - PLEASE BE VERY CAREFUL AS WE'RE AWARE THESE EMAILS HAVE BEEN RECEIVED BY SOME PATIENTS IN BICESTER.
Do not click on the link in the email or fill in any personal details that it asks for. Doing so will take you through to a payment page - THIS IS A SCAM INITIATED BY FRAUDSTERS TO GAIN YOUR BANK ACCOUNT DETAILS.
Please warn others. Thank you.
12th Jan
COVID-19 Vaccination Programme has begun in Bicester
Everyone in the teams at all three Bicester GP practices is proud that Covid-19 vaccinations have begun at the Bicester Vaccination Centre now sited at Bicester Heritage.
If you've already been called for a vaccination there (by Alchester Medical Group, Bicester Health Centre or Montgomery-House Surgery), or if you're among the tens of thousands of local patients who'll be called to go there soon, please remember you'll need to wear a face-covering during your visit.
Read more details on the local vaccination programme and information on getting to the Vaccination Centre
31st Dec 2020
COVID vaccination phone scam
Please be aware that a patient in Witney received a scam phone text: "We have identified that your (sic) are eligible to apply for your vaccine." There was then a link to a form to provide personal details, and another asking for bank card details. The patient realised this was a scam because she was not in a priority cohort and because of the typo, but she called the practice for reassurance. There may be similar scam attempts in other areas.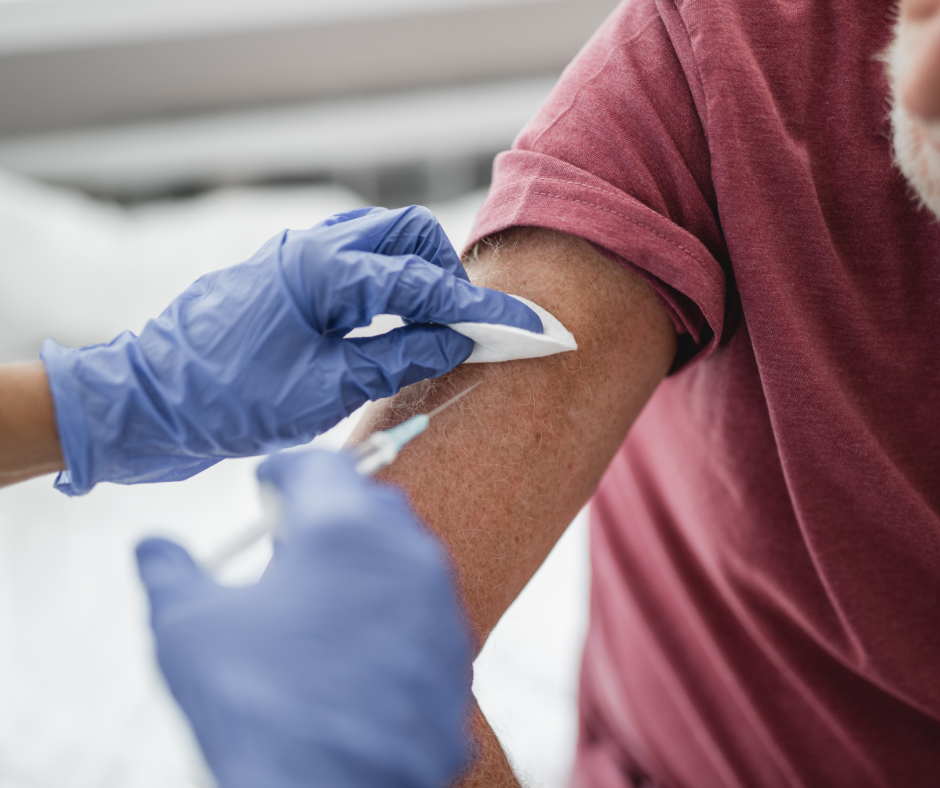 15th Dec 2020
Bicester Covid-19 Vaccination Centre to be sited at Bicester Heritage (former RAF Bicester)
An agreement has been reached for the Bicester Covid-19 Vaccination Centre to operate from premises at Bicester Heritage to the north of the town. Patients from all three of Bicester's GP practices will be invited to receive their vaccinations there during the national vaccination programme that is underway and set to continue through the following months.
Vaccinations will be carried out at the Centre by nurses and clinicians from the Bicester practices – Alchester Medical Group, Bicester Health Centre and Montgomery-House Surgery. The NHS has set up a system to invite people who are at greatest risk from Covid-19 to attend for a vaccination first. Patients in Bicester are asked to wait until they are contacted and they should not call the NHS or their GP practice about Covid-19 vaccination appointments. Patients will be required to attend the Vaccination Centre twice, for their initial vaccination and a follow up vaccination three weeks later.
The Vaccination Centre is located in a specially adapted building within Bicester Heritage, which can be easily accessed by car and where there is free parking available with entry via Skimmingdish Lane on the Bicester ring-road. The Centre has the capacity for many people to be vaccinated at the same time and is well suited to meeting the various demands of the Covid-19 vaccination programme.
Click here for more information on the site and information when you are called to attend for your vaccination.
10th Dec 2020
COVID-19 Vaccination
People most at risk from the complications of COVID-19 are being offered the vaccine first.
In the UK, there are 2 types of COVID-19 vaccine to be used once they are approved. They both require 2 doses to provide the best protection. Both have been shown to be safe and effective in clinical trials.
An independent group of experts has recommended that the NHS first offers these vaccines to those at highest risk of catching the disease and of suffering serious complications or dying from COVID-19. This includes older adults in care homes and frontline health and social care workers.
When more vaccine becomes available, the vaccines will be offered to other people at risk as soon as possible.
See the UK Government website for further information.
We
know you will be keen to find out more but please don't contact your doctor or the NHS to ask about it, as we will get in touch with you directly when it's your turn. Supplies of the first vaccine to be authorised are limited, so please be patient.
Have we got your correct contact details?
Changed address? - Update your GP record
29th Sep 2020
Scam warning involving the recently deployed NHS Test and Trace app
People are pretending to be from NHS Test and Trace informing you that you've been in close contact with someone who has tested positive for coronavirus and advising that you need to have a test. They say that they need your card details as you have to pay for the test. This is not true. The NHS tests for coronavirus are free. If you get a genuine email, text or call from NHS Test and Trace they will never ask you to pay for a test or for your bank/card details.
Emails and text messages have been sent out to people in England by the government asking people to download the test and trace app. Should any patient raise concerns about receiving such a message you can assure them that there is existing law which allows confidential patient information to be used and shared appropriately and lawfully in a public health emergency. Due to the ongoing COVID-19 pandemic, there is a requirement for public bodies to share relevant personal data to protect against serious threats to public health. This is covered under GDPR Article 9(2)(i) – the processing is necessary for reasons of public interest in the area of public health and DPA 2018 – Schedule 1, Part 1, Section 3 – public health purposes.
More information including a link to the test and trace privacy notice which contains the legal basis is available here:
https://www.gov.uk/government/news/nhs-covid-19-app-emails-and-sms-message
25th Aug 2020
Corona Virus - Stop The Spread
The number of coronavirus cases in Oxford is rising, particularly among 20 to 30 year olds. While you may not experience the worst of the symptoms yourself, you may pass it onto loved ones who do. It is up to each of us to stop the virus spreading. Play your part to help stop the spread: keep your distance, wash your hands regularly, wear a face covering, and avoid car sharing if you can. If you have any coronavirus symptoms, you must self-isolate immediately and call 119 to book a test. And if you've been abroad to a country that is not on the exemption list, you must by law self-isolate for 14 days.
11th Jun 2020
FACE COVERING IS MANDATORY WHEN YOU VISIT THE PRACTICE FOR AN APPOINTMENT
We are working to minimise the number of visits you need to make to the practice. However, there will be some appointments that we arrange that can only be on a face to face basis. In order to keep you, other patients and our staff safe, please ensure that you have a face covering before you come in to the practice. We regret that we will decline entry to any patient who cannot or does not comply with this requirement. If you do not have a mask, you can use any cloth or garment that provides cover over your mouth and nose, for example a scarf, a cardigan or sweater.
5th Jun 2020
Changes to Appointment Systems
Bicester practices are continuing to improve their appointment systems.
As many of you will be aware the coronavirus pandemic has necessitated a shift away from a largely face-to-face GP consultation model with pre-bookable appointments, to a telephone-based system.
These changes have been made to keep you and our NHS staff safe. We are now planning to continue to improve and adapt these systems for the medium and longer term.
The changes that we have made so far have enabled us to respond to the majority of demands for care on the day patients contact us. This has meant an end to potentially long waits for an appointment. We all want to continue to enjoy the benefits of these changes whilst improving access to your usual doctor and where necessary to enable people to be seen for a face to face examination. All Bicester GP surgeries are therefore planning to move forward with a primarily same-day access system for patient care. There will no longer be pre-bookable future appointments. To make things simple for all Bicester patients, whatever surgery you are registered with, we have come up with a simple instruction guide for accessing GP services:
1) Where possible, particularly for non-urgent matters, please contact the surgery on the days when your usual GP will be working. This information can be found on your practice website.
2) Contact the surgery before 12.30pm for all routine matters.
3) "eConsultations" (accessed via the home page of each practice's website) are an affective and preferred way of contacting the practice for all matters. This helps keen phone lines free for emergencies. This secure form of communication has built in clinical triage (you will be asked questions about your condition when you complete the form) which helps rule out important or dangerous conditions that may require you to be seen more urgently. The system also allows you to provide all the information you feel is important at a time of your choosing, without being rushed. The GP will email, text or ring you in response within one working day, or sooner if you indicate that this is urgent.
4) You may still telephone the practice for any non-urgent matters before 12.30pm. Urgent matters can be telephoned through later than this, but there is no guarantee that you will receive a response on the same day. This will be at the discretion of the clinician.
If you telephone the practice our Patient Coordinators will ask you for more information to help find the right person to address your needs. This may not be your GP as all Bicester practices now have Clinical Pharmacists, Advanced Nurse Practitioners and other clinicians who may be more appropriate to deal with your problem. You may even be directed away from the surgery for example to the optician services providing care for eye conditions, or the community pharmacies who can provide a variety of medical services including antibiotic treatments for simple cystitis. Please help our patient coordinators by answering their questions.
We hope these changes will continue to keep you safe and our NHS and primary care services running efficiently and safely and that we can respond to the majority of clinical needs within one working day.
If there are areas in which you feel we could improve what we are doing please contact the surgery or our patient participation groups to give your constructive feedback
7th Jan 2020
End of the Fax Machine
In line with national NHS policy, Bicester Health Centre is ceasing use of fax communications. The fax line will close down at 6.00pm on Friday 28 February 2020.
23rd Sep 2019
Bicester Health Centre no longer offers routine ear syringing services
Regrettably, but in common with the other practices in the area, due to the high and increasing demands on general practice, we no longer have capacity to provide this service. We have asked OCCG to support us by commissioning this service from practices but they have declined to do so. In addition, there is not good evidence for the benefit of ear syringing (wax serves a protective function in preventing infection in the ear canal) and there is a small risk of harm (damage to the ear canal and even perforation of the ear drum). See our Ear Care page for information about self-treatment or clinics offering ear wax removal.