14th Sep
12 weeks FREE membership at Bicester Leisure Centre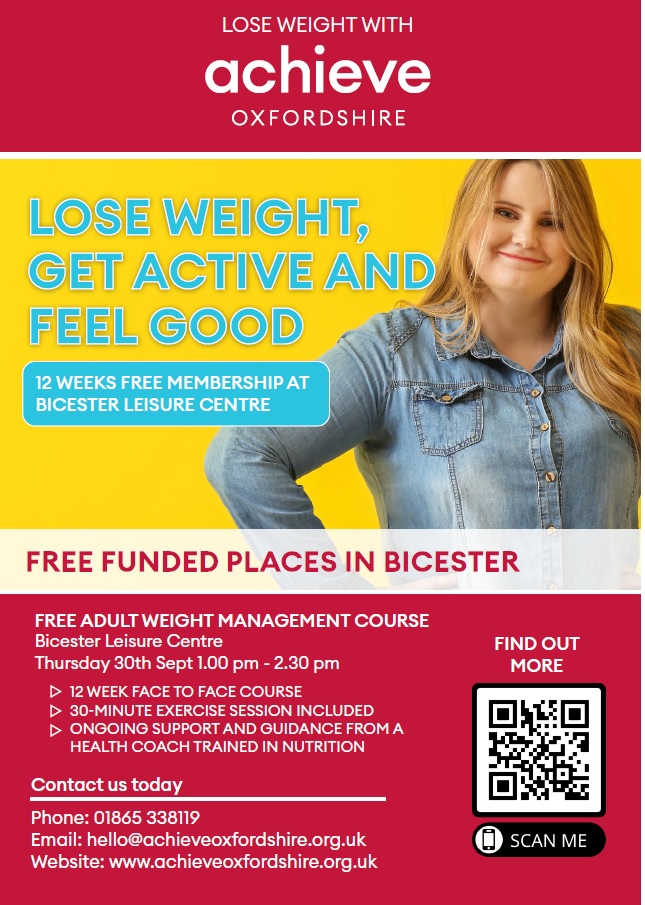 3rd Sep
Healthwatch Oxfordshire - Blood Pressure at Home monitoring Survey
Healthwatch Oxfordshire are running a project with four other local Healthwatch in England to evaluate the BP@Home Programme and would like your help to promote it.
We want to survey patients who monitor their blood pressure at home, including those who have taken part in the BP@Home programme. The purpose is to help us understand patient experiences of remote BP monitoring and how it impacts on their health and wellbeing. The findings of the survey will inform recommendations for delivering better patient experiences and improve engagement in future remote monitoring programmes.
Patients will be able to complete the survey online or over the phone with the help of a Healthwatch team member, which they can arrange directly with us. More information can be found here: https://healthwatchoxfordshire.co.uk/have-your-say/complete-a-survey/
31st Aug
Blood Tests - National blood bottle shortage
A supplier to the NHS has advised us of a global shortage of some equipment used for taking blood tests. Anyone who needs a test for urgent health problems, will still get one but where your clinician recommends that it's safe to do so, then you may be asked to come back for a test at a later date, or your appointment may be rescheduled. Given the nature of the shortage, we cannot give an exact date for when the test will be rescheduled, but please be assured that if your condition or symptoms require it, then you will get a test, and we will be re-booking your test when supplies become more easily available. If your condition or symptoms change or get worse, please contact the NHS as you would normally.
15th Jul
Arrangements from 19 July 2021
After careful consideration we have taken the decision to keep our front doors closed after 19 July 2021. We are still operating a full clinical
service to look after your medical needs.
This decision is to ensure patients do not walk in with COVID-19 symptoms and potentially infect vulnerable patients who, despite being vaccinated, may not have made COVID-19 antibodies to protect them from the life threatening risk of COVID-19.
We are aware other surgeries have made different decisions which may be more appropriate for their different populations.
We want Bicester Health Centre to remain a safe space to deliver high quality care for our patients.
If you require same day access to a health professional, please send an eConsult before 12 noon. We will get back to you the same day. This receives the same priority as phoning the surgery. Where this is not possible or in a more urgent situation please telephone the surgery on 01869 249333
From 19 July 2021 we request all patients continue to wear a face covering in order to reduce the risk of spreading COVID-19 to other vulnerable patients.
21st May
The Abuse Must Stop
We've had so many lovely people who have given so much wonderful feedback to the team who are all working flat out at the moment to keep patient care AND COVID-19 vaccination services running. Against that sadly we have seen an increasing tide of abusive behaviour toward the very people who are beavering away to help everybody. Please take a moment to look at this video.